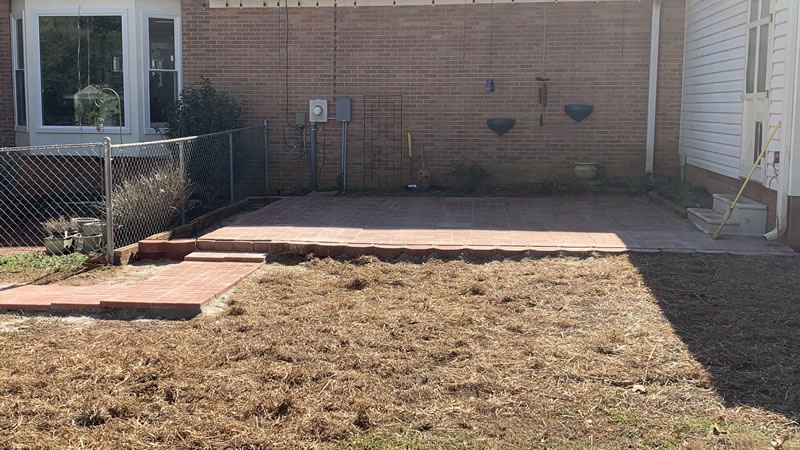 Hardscape Installations Central, SC
There are two main elements to a landscape these are "hardscaping" and "softscaping".  Hardscaping is all of the "hard" man-made elements that can make up your landscape such as a paver driveway, a brick patio in the backyard, a walkway winding through your gardens or to your front step, a retaining wall that is holding back a slope, water features, and even outdoor structures like decks, gazebos, and pergolas.
Softscaping would be your lawn area, all of your garden or mulch beds, and plantings like trees, shrubs, hedges, and perennials.  Hardscaped areas of your landscape are usually more expensive because of the added material cost and labor required to install them properly but they also have much lower maintenance requirements and last forever when built right.
Perfect Images Landscaping LLC is a local landscape construction company based out of Central, SC and serving the surrounding area including Clemson, Six Mile, Pickens County and Anderson County.  We specialize in designing and building hardscapes for both residential and commercial properties of all sizes.  From a beautiful winding brick paver driveway to a spectacular water fall feature or a relaxing outdoor cooking area and more, our team can build anything you want out of brick, natural stone, or concrete.
Hardscape Installation Services We Offer:
New driveway installations (brick, stone, gravel, or concrete)
Outdoor cooking areas
Pool decks
Gazebos and pergolas
Walkways and pathways
Water features
Drought tolerant landscapes
A well designed and constructed hardscape is an integral part of any landscape design.  Your hardscaping provides definition, separation, and organization to the natural areas and features of your landscape.  Hardscape elements define how you use your new space, such as with a driveway that leads a visitor to your home, or a pathway that can lead visitors through different areas of your landscape.  There are so many ways to implement hardscapes into your landscape design.
Why Choose Perfect Images Landscaping LLC For Hardscape Construction?
We understand that you have many landscape companies to choose from throughout Central, SC to install hardscaping.  We just want you to know that when you choose to work with Perfect Images Landscaping LLC to build your hardscape you are partnering with a locally owned business that takes your project very seriously.  Our team has the knowledge and experience to install beautiful, long-lasting, hardscaped elements into your property.
You can always expect knowledgeable, reliable landscape construction services and great communication from a company that cares about your properties appearance and our local reputation in the community.
If you'd like to get the hardscape installation and construction process started then please give us a call (803) 747-6669 or fill out our online contact form and we'll get back to you right away (usually the same day).